The best eco-resort in Sri Lanka (on a private island)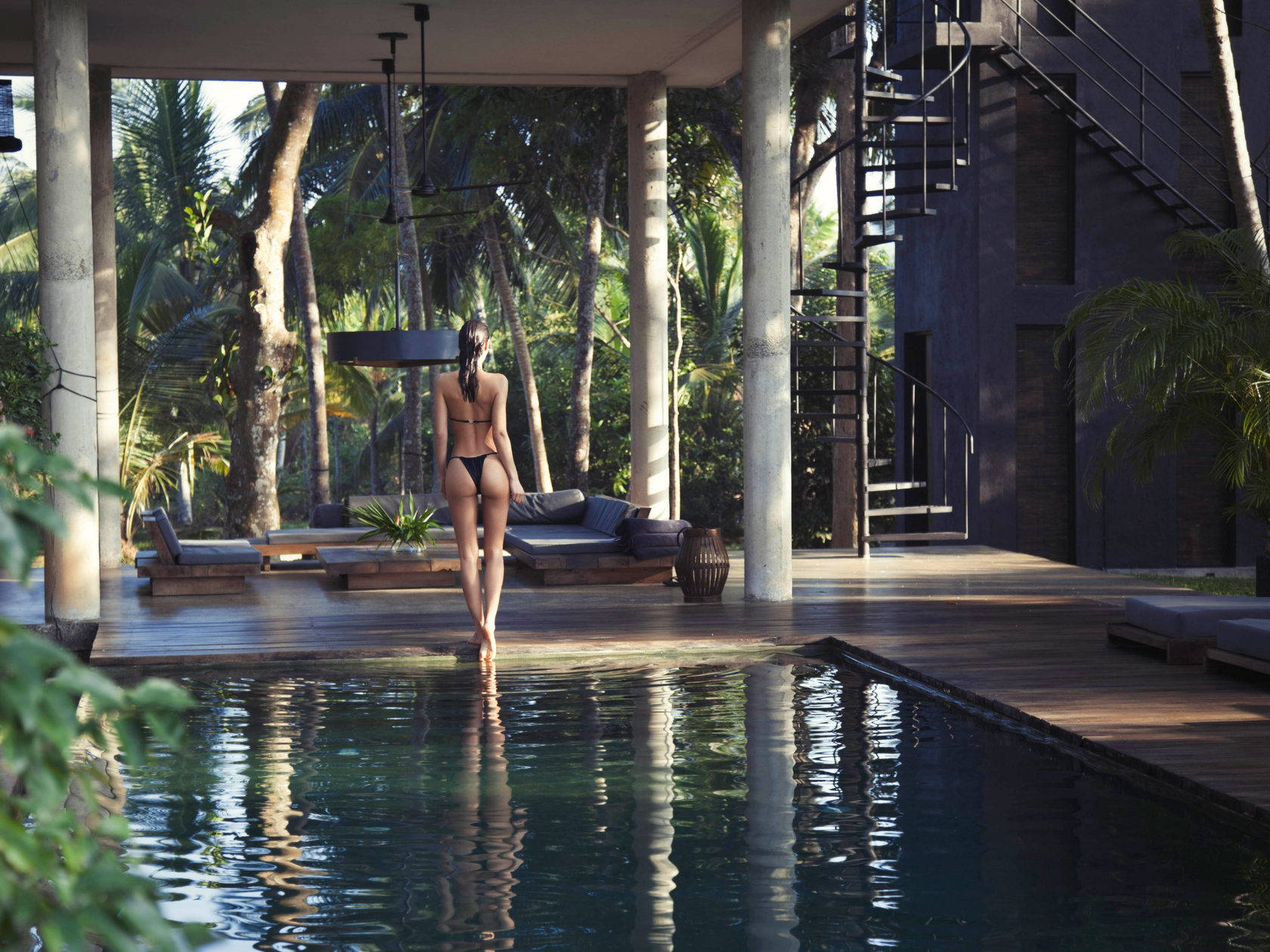 The best eco-resort in Sri Lanka (on a private island)
Before arriving at Kaju Green Eco Lodges just outside of Galle on Sri Lanka's south coast, I wasn't sure what to expect. The tuk tuk ride getting there was adventurous, to say the least. On a winding road through local villages located deep within the forest, the short (but bumpy) journey from the main tourist strip to the private inland island doesn't do the final vision justice. But, as I soon found out, getting there is all part of the charm.
Part of a new type of luxury hotel that seems to be popping up all over the island country, Kaju Green walks the fine line between luxurious and untouched. The sort of place where you go to escape, but you don't feel trapped by the burdens that other, bigger hotel chains seem to inflict, like timed Wi-Fi or crowded pools. In fact, Kaju Green is sort of like staying in a private home, but with better service and interiors you want to actually bring home. Open for just one year, the hotel is an eco lodge, but with twists. The villas, which look out to the surrounding lake and private gardens, are open to the elements, with indoor/outdoor wooden walls which allow the sounds of nature to filter in. Here, waking up to birdsong (the hotel's neighbouring property, just across the water, is a bird sanctuary) every morning, followed by an outdoor shower in a partly exposed bathroom, is just the way of life.
Chic and minimalistic in their design, the villas are a design lover's dream. In a country where so much of the great architecture comes from a colonial past, it's nice to see a fresh and modern spin on what coastal hospitality (with an environmentally friendly footprint) can look like.
But the modernity doesn't stop there. The rest of the hotel is just as refined in its style. The common area, where breakfast, lunch and dinner is served, sees slabs of concrete meld with local timbers for a refined, yet wholly natural take. Accented only by the green of the lush surrounds and the blue of the saltwater pool, the space can easily be made home for a day of reading and relaxing — something I did in spades while at Kaju Green. Add to this the hotel's manager, Nuwani, a fiercely hospitable leader who will do just about anything to make your stay as perfect as possible, and we're impressed. Plus, seeing a woman running a top hotel in a country dominated by men is pretty special, too.
The best part about the lodge, however, is the food. With three meals available on-site per day, guests (if they choose) can eat like royalty without even having to leave — although there is a complimentary tuk tuk to nearby Wijaya Beach for those that do. The breakfast was by far the best I ate while in Sri Lanka, with fresh tropical fruits followed by a grain porridge, local honey or sweet coconut pancakes. Mercifully, no omelettes (they seem to be the standard, and often only, breakfast item at Sri Lankan hotels). Lunch and dinner are just as impressive, with a set menu that changes daily but remained consistently delicious over my two-night stay. Think: flavoursome curries, textured sambols and crisp papadums — washed down with a house gin and tonic, as alcohol is included in the dinner price.
For an inland escape away from the crowds, somewhere that will seem a million miles away from a desk and where you can indulge and feel good afterwards, this is the place.
Book it here: WEBSITE
**This article appeared first on VOGUE Australia**